If you've arrived here, you might be looking for, or have a question about:
…or another iPhone or iPad app by me. Please email me for help or with any questions.
There are more apps in the pipeline and I'm open to feedback.
Lefty and Ron Merchandise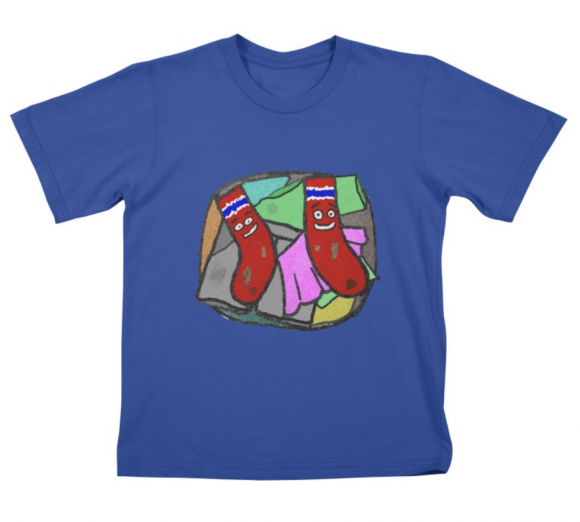 If you've enjoyed Lefty and Ron, you can now buy them in clothing form! No socks so far, though. 🙂
Privacy Policy
I do not collect any personal information in any of my apps, nor do I perform any kind of tracking or logging.
Tech support note, August 2016:
Apologies if you have any issues with Roughly, like the reviewer on the App Store who has had some problems with crashing. It looks like watchOS doesn't always update new complications, but if you just wait a few minutes, it'll usually sort itself out. You can also try switching the complication out, viewing a different complication, and then switching back to Roughly.
Unfortunately this is all out of my control, so I'm sorry if you have any trouble.
Tech support note, April 2014:
I've heard of one or two people having trouble with the Caravan Qld app, in which the app launches and then immediately quits. My apologies. This is an annoying problem which I've seen from time to time with apps from other developers, but it can happen to any app after an update, and can be a difficult problem to track down. It hasn't happened on any of my test iPads, and I can't reproduce the problem here. As I've posted in the comments below this, if you do experience this, please:
1. Hold down the sleep/wake button on the top of the iPad until you see a "slide to power off" option, then slide it.
2. Once your iPad has shut down, press sleep/wake to turn it on again.
3. Try the app once more. If it still fails, please let me know, and also what kind of iPad and what version of iOS you're running.
4. It's also possible that installation failed for some reason, in which case you can delete and re-install the app: hold your finger on the app until it shakes, press the X and confirm, then download it again from the App Store.
For another take on those steps, try this guide.
By now, thousands of updates have been downloaded, and I've only heard of a few people having problems. With any luck, that means that not too many people have been affected, and with any luck it's just a transient issue that will go away on its own. Please do let me know if it's still a problem for you, though, and I'll help if I can.